When you use Moneypenny's telephone answering service, having the support of a dedicated PA is only the beginning.
You also have access to a raft of helpful tools to ensure you're maximising our support and getting the most out of being a Moneypenny client – and our online portal is no exception.
It's a treasure chest of information and goodies, allowing you to see who's calling your business, at what times of the day and where they're based. Download your invoices, update your PA, change your status – and whilst you're there, take a look at Moneypenny's other business services – some of which are available to you for free as our client.
Call history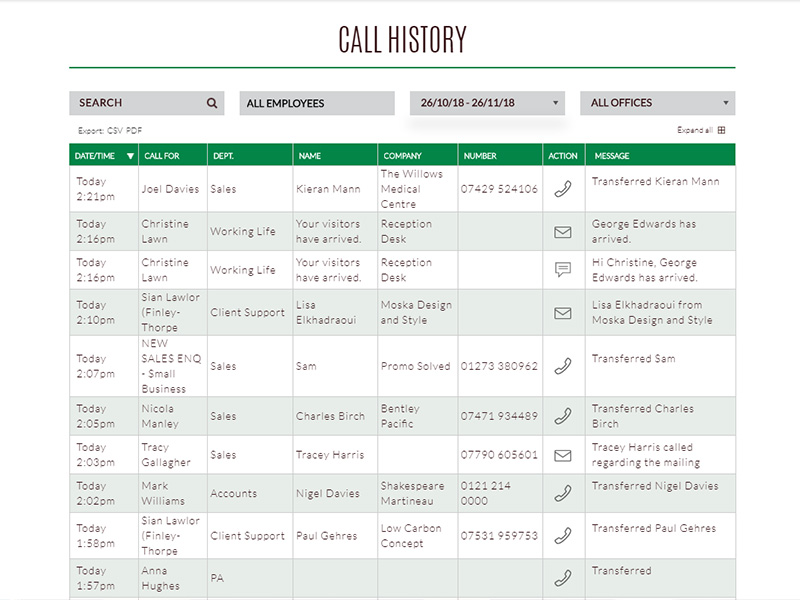 We've all been there – trying to track down the number of a contact who called you +3 months ago. You vaguely remember the details; you'd know them if you saw them.  To make call auditing a breeze, a record of every call your Moneypenny PA handles on your behalf can be found in your call history screen. Each one details the date, time, caller's full name, company name, number they called from, the action your PA took (emailed, sent you a text message etc.) and of course the full message itself. You can search your call history using keywords, by employee or date range, and even export the full list as a pdf or csv file if required.
Call stats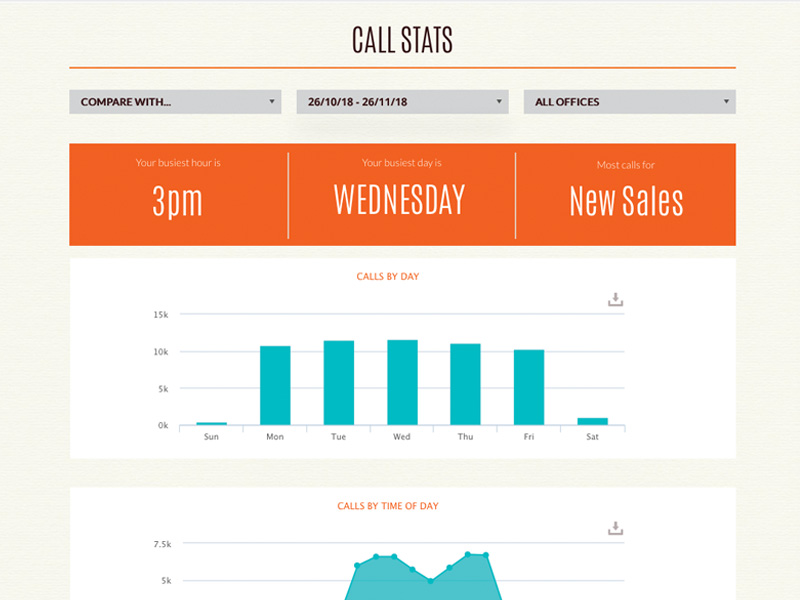 Having an extra pair of hands is all well and good, but wouldn't it be great if your calls could be profiled so you can see any key trends? This is the beauty of the call stats page. We headline your busiest time and day of the week, as well as the person who's receiving the most calls; there are also additional graphs showing calls by actions taken and average call length; essentially any practical stats that will allow you to streamline processes and allocate resource to better service your customers. You're also able to review stats by date range, as well as compare your usage with others in your industry. If you have multiple offices, you've the ability to return stats at a site and group level (depending on your login access). The result is an incredibly accurate picture of your calls that helps you manage them more effectively, and even start a conversation with us about ways to reduce volume if required.
Update your PA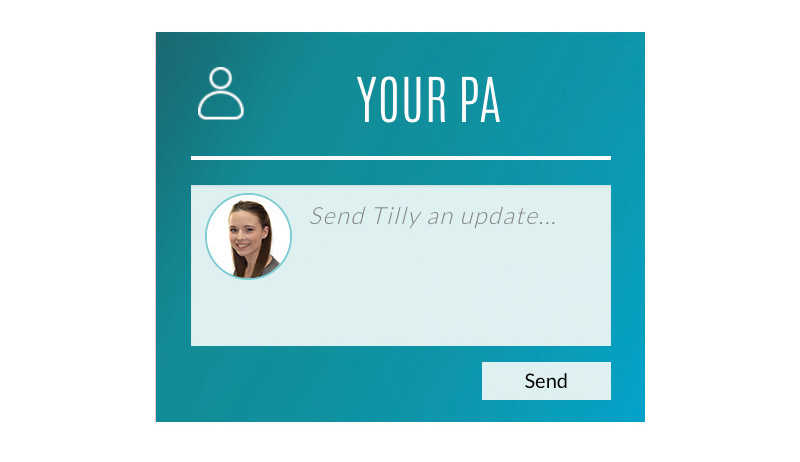 A quick and easy way to update your PA in real time whenever you're logged in. Don't forget, you're also able to update your PA via the Moneypenny app when you're on the move. Failing these, there are of course phone or email – your PA isn't precious! The main thing is you've lots of options to suit the way you're working at any given time.
Status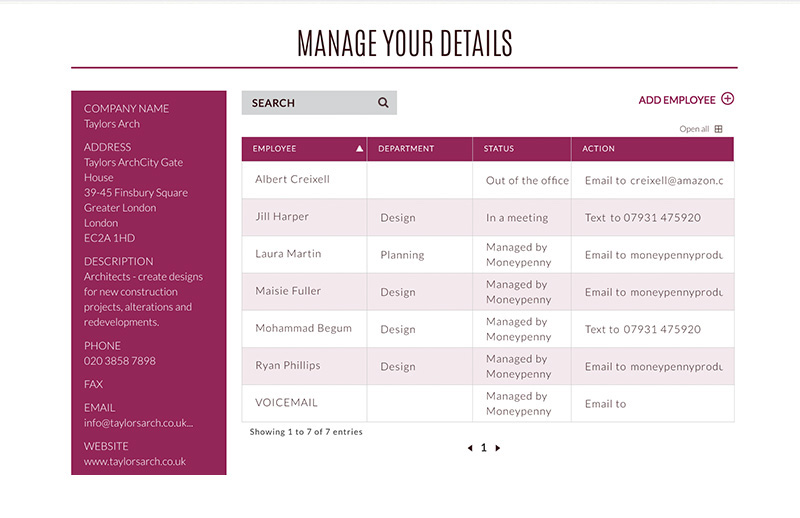 Clicking on Status takes you to an overview of your company details. Here, you can update your general company details, which automatically updates the information your PA refers to when assisting your callers. You're also able to search and edit the details for each of your employees, including their job title, contact details and most importantly, their status: setting a Status lets your PA know what to do with a call in any given circumstance, for example: 'At desk – transfer to 07123 456789'. An employee can have multiple Statuses ('In a meeting – email joe.bloggs@moneypenny.co.uk) and these can be controlled either by the employee or Moneypenny. Sounds a little overwhelming? Don't worry, as a Moneypenny client we'll go through all of this with you when you join us, and if you've a lot of employees, we're able to upload all of these details for you automatically. We like smart working.
Caller locations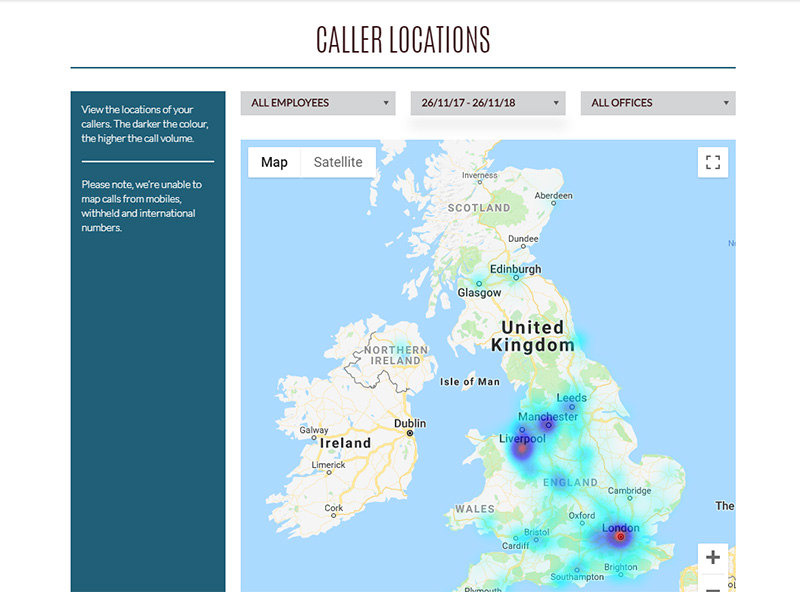 This clever feature maps callers using their UK area code; an ideal reference tool if you're keen to expand your reach and are wondering where your business is gaining the most traction. Caller location can be also be searched by employee and using a date range, so you'll always know where calls have originated and who's dealing with them.
Toolkit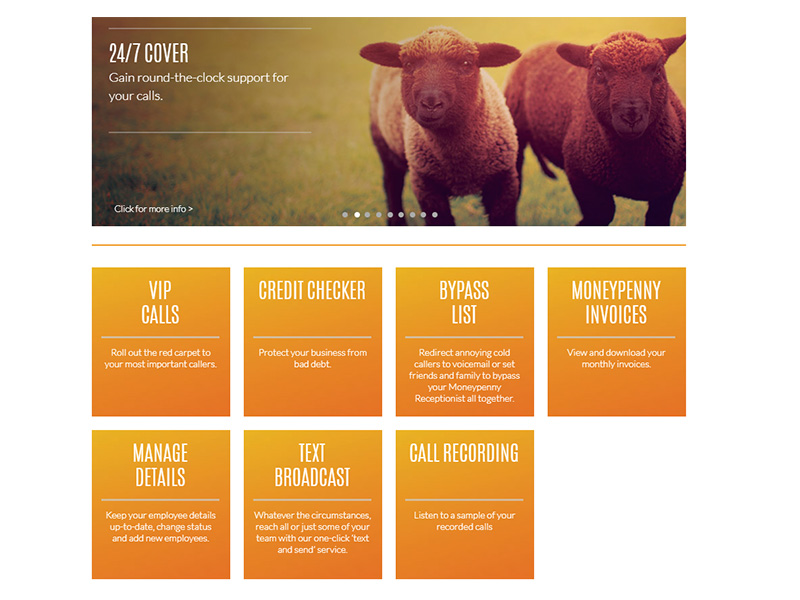 Moneypenny really is so much more than a telephone answering service. We understand the challenges every business faces, which is why we've a host additional services available to Moneypenny clients at exclusive rates:
Additional Lines – have certain calls answered in different ways by your Moneypenny PA
24/7 Cover – extend the hours of cover we're on hand to take your calls: in the evenings, at the weekend or even around-the-clock
Call Conferencing – travel less and meet more with our convenient 'pay as you go' service that allows up to 20 to hold a conference call without any hardware
Fax-to-Email – does exactly what it says on the tin: converts your faxes into email that are sent straight to your desk
Mailing Address – benefit from the prestige of having a London address, without the associated overheads
Meeting Rooms – access stylish meeting rooms in the heard of London's thriving tech scene
Telephone Numbers – help your business stand out from the crowd with local numbers (0207, 0161 etc) and national numbers (0333, 0800)
Credit Checker – check the financial status of new prospects before you start working with them
The Moneypenny portal holds anything and everything to help you manage your service. Interested in one of our additional services? Give one of our New Business Managers a call on 0333 202 1005 for more information.
Share this article
We give you amazing people and technology:
×